Understanding the Differences Between Heat Exchangers
Posted - February 28, 2020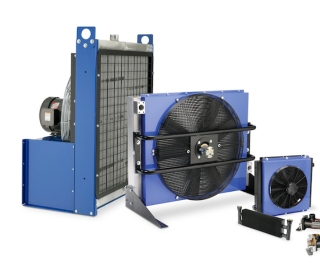 Heat exchangers are essential systems that are widely used in industrial settings and processing plants to keep machinery, chemicals, oils, and water at safe operating temperatures.
While the general function of a heat exchanger remains the same throughout different product lines, there are many different types of heat exchangers on the market. Understanding the differences between products could lead you to make the right decision the first time you purchase a new heat exchanger.
Here are some of the unique qualities and benefits of the heat exchangers offered by Thermal Transfer Systems, Inc.
Water Cooled Heat Exchangers
Shell-and-Tube Heat Exchangers
Shell and tube exchangers are the industry standard, and most basic heat exchanger one could find on the market. These heat exchangers involve moving two fluids in either a parallel or counterflow direction throughout its tube configuration.
These exchangers are popular amongst buyers because of their variance in design availability. However some of the key advantages they offer to buyers include:
Their ability to be designed to withstand high pressure
They can be designed to bear temperatures that range from extremely high to extremely low
Thermal shock resistance
Simple disassembly for maintenance repair and cleaning
Plate Heat Exchangers
Plate type heat exchangers are compact and comprised of thin plates that are gasketed, brazed, fused or welded together. This type of heat exchanger is unique because while they look the same on the outside, they're completely customizable for each application.
The advantages of the plate type heat exchanger are:
Highly efficient
Small footprint compared to other types of heat exchangers
Versatility by being able to add / removable plates
Spiral Heat Exchangers
There are two types of spiral heat exchangers, plate wound and tubular.
The plate wound spiral heat exchangers are created by rolling two plates around the core, creating two spiral passages for fluids to pass through. Due to their design, these units are considered to be self-cleaning due the design characteristics between plates keeping the velocities up and flow turbulent flushing away fallout / deposits during operation.
The tubular spiral heat exchanger is created with coiled tubing typically of 304 or 316 material. These units are ideal for low flow and high-pressure applications.
Air Cooled Heat Exchangers
Furnace Brazed Aluminum
Furnace brazed aluminum heat exchangers are extremely versatile units that offer users a cost-effective and compact design. These units are typically praised for their efficient heat transfer and the high-performance quality they bring to the table.
Round Tube
Round tube heat exchangers are commonly fabricated with copper, steel or stainless tube having aluminum fin construction with steel manifolds. They are available in both custom and standard applications and will be able to help meet any industry's cooling needs.
Regardless of the design, they are implemented in, round tube exchangers are able to work exceptionally under pressure. Our round tube heat exchangers are able to withstand pressures and temperatures from 300 psig/400 degrees Fahrenheit and up.
Engine Radiators
Radiators are essential cooling applications throughout several industries and are able to be customized in order to best meet a customer's needs. From expansion tanks, to fluid connection assemblies, and fan control panels, engine radiators have several available design options that provide maximum performance to the industries that use them.
Some of the benefits engine radiators offer include:
Low profile presence
Lightweight design
Resistance to corrosion
Trust Thermal Transfer Systems Inc. for Standard and Custom Designed Heat Exchangers
When your industrial plant needs a new heat exchanger, settle for nothing less than the best. Trust the experts at Thermal Transfer Systems, Inc. to provide you with the most complete product offerings on the market for industrial heat exchangers and exhaust silencers.
With our quick-ship option, we can provide your requirements so your plant won't experience much downtime waiting for its new equipment. Contact us today to find out more about our products and services we offer to our clients.