Exhaust & Blower Silencers
Cowl® silencers are available in Residential and Critical grades. Factory customization is also available to fit your specific silencing needs.
Cowl® silencers feature a unique single spiral chamber design that allows a free flow of exhaust gas through a uniform cross-section throughout the entire spiral chamber. As the exhaust gases pass through the spiral chamber, exhaust noise is progressively attenuated. The benefits of the Cowl® spiral chamber are high sound attenuation, very low exhaust back pressure and a very small package size. Typically, Cowl silencers are approximately 1/3 the physical size and ½ the weight of conventional cylindrical silencers, of similar performance.
The TSR Series Cowl Silencers feature Residential grade attenuation (22 – 28 dBA) in sizes from 1" up to 12" inlet diameter. Aluminized steel is standard construction and stainless steel in 304, 316 and 321 grades is available as an option.  Cowl silencers are available in several standard inlet/outlet configurations as well as standard choices for various connection types.
The TSC Series Cowl Silencers feature an extended spiral chamber design which results in Critical grade sound attenuation performance in the 28 – 33 dB(A) range. The TSC series are also available in several inlet/outlet configurations and various connection types.
Cowl's Full Catalog:
Cowl's Full Catalog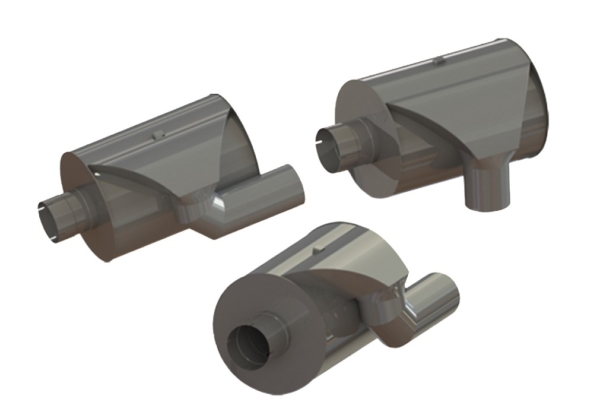 MIRATECH's EM silencers have time-proven designs with the latest in acoustic prediction technologies.  As a result, they are known for having the highest performing systems available.  These heavy-duty silencers for commercial and industrial applications come in a variety of styles and configurations with a typical reduction range of 12 to 48 dBA.
Miratech designs and manufactures engine silencers ranging in attenuation from industrial through hospital-grade. MIRATECH's Cylindrical Series Silencers are conventionally shaped cylindrical designs that range in size from 1" up to 48" inlet diameter. While large inlet size silencers are less common, we do have the experience and capability to design and manufacture exhaust silencing systems for some of the world's largest engines. The "J" Series silencers offer a combination of reactive and absorptive silencing features to offer incremental levels of attenuation.
Low-Pressure Drop Silencers are available in residential and critical grades of attenuation in standard sizes up to 24" inlet diameter. These silencers are most often used when a low-pressure drop is the most important consideration.
We also offer a full range of spark arresting silencers for use in marine, forestry, oil/gas, refineries, and other hazardous environments. These silencers have chamber type designs and are extremely effective in the removal of potentially dangerous incandescent materials. All silencers range in attenuation from industrial through hospital-grade. Standard spark arresting silencers are certified to DNV and USDA requirements.
MIRATECH offers a full range spark arresting silencers type approved in accordance with EN 1834-1:2000, EN 1834-2:2000, EN 1834-3:2000 to comply with ATEX Directive (European Directive94/9/EC) requirements.
MIRATECH offers a full line of Disk Silencers for enclosed applications where the design offers benefits of internal thermal insulation as well as optimized packaging. Disk silencers are available in critical and hospital grades of attenuation from 4" up to 20" inlet size. These silencers are the preferred choice for packaged power or other applications where space is limited.
EM's Full Catalog
EM's Full Catalog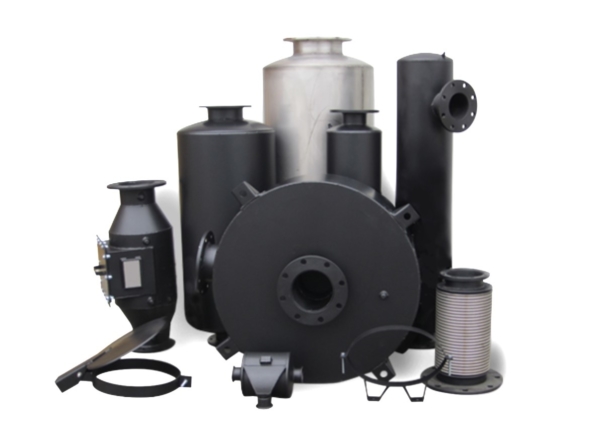 Process / Vent Silencers
MIRATECH leads the way in high performance acoustic solutions for industrial process manufacturing/refinery plants. They're a recognized leader in the field of acoustic engineering with expertise in designing, engineering, and fabricating solutions that address each customer's unique application needs.
Controlling noise especially in industrial process manufacturing plants is not easy. Machinery such as large or small high-speed positive displacement blowers, industrial fans, low-pressure vents, centrifugal compressors, gas turbine engines, centrifugal blowers, vacuum pumps, etc. requires noise control measures to meet a facility's sound abatement requirements.
As part of our product portfolio, we offer industrial process silencers for power vent and blowdown applications. In addition, we also offer rotary positive blower silencers, relief valve and control valve silencers, pressure reduction silencers, vacuum pump silencers, blower, and centrifugal compressor/fan silencers, and intake and discharge silencers for air or gas service…as well as piping and stacks.
Some additional applications examples include systems with pressure relief valves (PRV); high-velocity air, steam, and gas vents and blowdowns; relief valves and control valves; switch valves; steam ejectors; autoclaves; high-pressure air vents; compressor blow off valves; steam boiler relief valves; air valves and cylinders; etc.
MIRATECH products are known for their high quality and for performing as specified. All silencers are designed and engineered by MIRATECH's dedicated in-house engineering experts. Through advanced technical software, extensive testing, and years of experience with standard and customized solutions, internal dimensions can be adjusted when needed to produce optimal noise attenuation.
No project, challenge, or configuration is too large or too small. Our team specializes in understanding your specific needs clearly, then designs, engineers, manufactures, and delivers a total acoustic turnkey solution that fits each unique need.